Budget airline set for bumper year as predictions rise 25% after rainy August sent Brits off to seek sun and enjoy favourable exchange rate against euro
Ryanair is set to make more than £730m this year.
Ryanair expects to make more than €1bn (£730m) in profit in 2016 – a 25% upgrade on earlier forecasts – as rising numbers of British holidaymakers flew to the Med to take advantage of the plunging euro.
The Irish no-frills carrier, which is marking its 30th anniversary, said it expected net profit would be between €1.18bn – €1.23bn for its full financial year ending 31 March 2016, around 25% higher than previously forecast.
The airline had expected to make profits of €940m – €970m, but said it had been surprised by a spike in passenger traffic and increase in takings. The news sent its shares racing ahead by 8.5%, taking them to an all-time high of €14.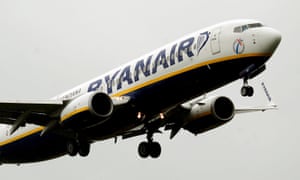 Earlier this week its arch rival easyJet upped its annual profit outlook to between £675m – £700m, boosted by the strong pound and the soggy August weather that encouraged holidaymakers in northern Europe to fly to Málaga, Alicante, Faro and Palma de Mallorca.
Ryanair was planning to update investors at its annual general meeting on 24 September but brought forward its latest trading update because the figures were so much better than expected.
The airline said it had benefited from bad weather in northern Europe that encouraged UK families to fly to the Mediterranean, as well as lower oil prices. But it also cited the recent improvements it has made to its service.
After years of delighting in its aggressive responses to unhappy customers, Ryanair has embarked on a mission to charm fliers – or in chief executive Michael O'Leary's words, "stop unnecessarily pissing people off".
The airline has introduced allocated seating to stop the scrum at boarding, as well as new seats with more leg room, improved in-flight meals, extra carry-on luggage and more business-friendly schedules. But O'Leary said not all the improvement in Ryanair's latest figures were due to its model or their management.
He cautioned shareholders and analysts "to avoid irrational exuberance" and reiterated that passengers could see lower prices this winter, as airlines embark on "very attritional and sustained fare-wars across Europe this winter".
"We have clearly benefited from favourable industry trends this summer including bad weather in northern Europe, stronger sterling encouraging more UK families to holiday in the Med, reasonably flat capacity across the EU industry and lower prices for our unhedged oil."
"Being the airline industry we do not expect these favourable conditions will persist, and we would urge shareholders and analysts to avoid irrational exuberance."
The post Ryanair profits to break €1bn barrier appeared first on RU Breaking News.